Introduction
As an important part of the energy market liberalization in Hungary, the national TSO MAVIR has established the Hungarian Power Exchange, Company Limited by Shares, as it subsidiary in 2010. HUPX Ltd. is the operator of the organized Hungarian spot power market with leading position in Central and Eastern Europe. HUPX is licenced as a NEMO (Nominated Electricity Market Operator) by the National Regulatory Authority of Hungary (MEKH).
Through its regulation and adopted trading framework, it promotes the liquidity of the Hungarian energy market, and on regional level supports the flow of the working capital in the sector. The core activity of HUPX – providing reference price and exchange trading platform - is effectively contributing to the development of the Hungarian electricity market. For the development of the market, it is important that the largest part of the electricity trading happens through the secure system of the organized exchange. In order to do this, there is a need for adequate legal background, transparent conditions, unified access for all participants, and efficient use of resources, as well as value-for-money transaction costs and clear settlement prices as a reference price.
The transparent, unified market mechanisms and liberalized market operations serve the security of domestic energy supply, the cost-effectiveness of trade and the boom in electricity industry developments and investments. The organized electricity market operated by HUPX Ltd. contributes to the efficiency of total domestic production and to the moderation of the electricity prices for consumers.
HUPX DAM (Day-ahead market)
On HUPX DAM (day-ahead market) standard hourly and block day-ahead electricity products can be traded. The day-ahead market of HUPX is part of the Single Day-ahead Coupling (SDAC).
The aim of SDAC is to create a single pan-European cross zonal day-ahead electricity market. An integrated day-ahead market will increase the overall efficiency of trading by promoting effective competition, increasing liquidity and enabling a more efficient utilization of the generation resources across Europe.
SDAC allocates scarce cross-border transmission capacity in the most efficient way by coupling wholesale electricity markets from different regions through a common algorithm, simultaneously taking into account cross-border transmission constraints thereby maximizing social welfare.
HUPX IDM (Intraday market)
In order to further develop the Hungarian electricity market, it is essential to ensure that trading and delivery are realized the closest possible to the execution. In recognition of this, HUPX has established the Intraday Market IDM, which has started its operation on 9 March 2016.
To increase the efficiency of the intraday trading, HUPX joined the XBID project and went live with the European Single Intraday Coupling (SIDC) on 19th of November 2019. This resulted in an immediate significant increase in HUPX's intraday volumes since the generated trading volume in the first half an hour was already equal to roughly 3 times higher than on a usual trading day on the IDM before joining XBID.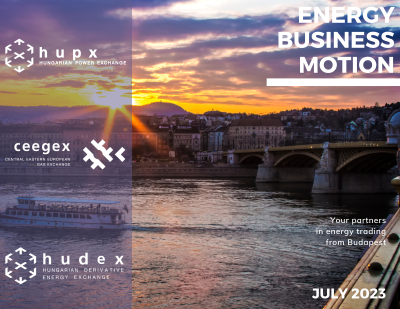 Official information
Name of the company 
HUPX Magyar Szervezett Villamosenergia-piac Zártkörűen Működő Részvénytársaság
Abbreviated name of the company
HUPX Zrt
Foreign language name and foreingn language abbreviated name of the company
HUPX Hungarian Power Exchange Company Limited by Shares, HUPX Ltd.
Registered seat of the company
HU-1134 Budapest, Dévai u. 26-28.
Mailing address of the company
HU-1134 Budapest, Dévai u. 26-28.
Company registration number

01-10-045666

Held at the Municipal Court as Court of Registration

Statistical number of the company
13967808-3514-114-01
Tax number of the company
13967808-2-41
Community tax number
HU13967808
Company operating permit: 
Hungarian Energy Authority -136/2009. decision number , 09.04.2009
Name of the HUPXIDM Balance Circle
HUPX-ID-BC
HUPXIDM EIC code
15X-HUPX-ID----A
Name of the HUPXDAM Balance Circle
HUPX-BC
HUPXDAM EIC code
15X-HUPX-------5
Contact
For further information please contact us by e-mail or telephone:
| | |
| --- | --- |
| E-mail:       | info@hupx.hu |
| Telephone:  | (+36) 1 304 1090 |
| Mailing address: | 1134 Budapest Dévai utca 26-28. |
| Walk in office | 1134 Budapest Dévai utca 26-28. |
| Opening hours (according to Hungarian time): | 08:00 - 17:00 |