Clearing and settlement
ECC AG
European Commodity Clearing AG (ECC) is a clearing house whose range of services comprises clearing and settlement for exchange and over-the-counter transactions in energy and related products. Since its establishment in 2006, ECC has constantly expanded its range of products, its clearing membership and its exchange partnership network. Currently, ECC provides clearing services for EEX Asia, EEX, EPEX SPOT, HUPX, Norexeco, PXE, Powernext, SEEPEX and SEMOpx.
Clearing
Its automated and integrated clearing and risk management services, across a range of markets and commodities, allow ECC to standardize processes and lower collateral requirements, providing members with cross-commodity and cross-currency clearing at a reduced cost. ECC operates within a robust and international corporate governance structure and according to internationally recognized standards for capital markets, institutions and clearing houses.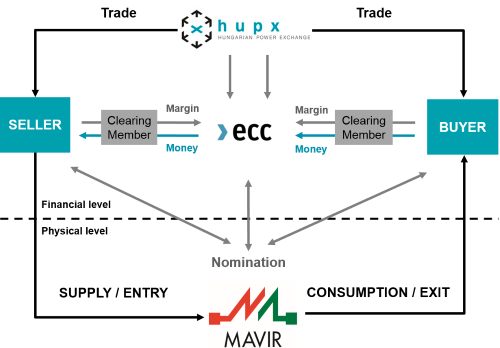 NCM and DCP models
Two types of clearing are available for the spot market members: the Non-Clearing Member model (NCM) and the Direct Clearing Participant model.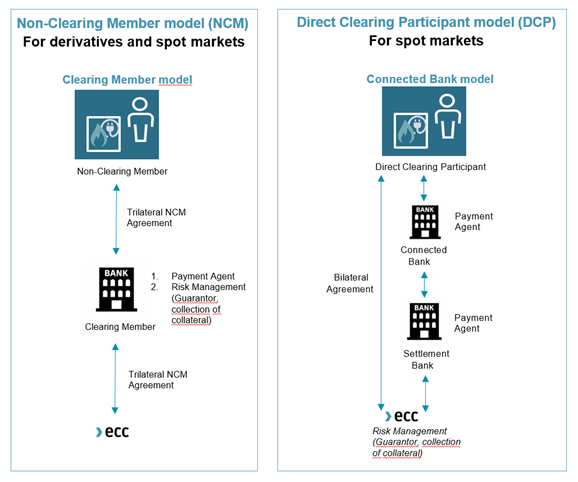 DCP Clearing Member is a Clearing Member that has a DCP clearing license, provided by ECC upon request, after appropriate member readiness procedures and is exclusively entitled to clear own spot market transactions. For the financial settlement of transactions, the DCP Clearing Member has to open a settlement account at a Settlement Bank of his choice.
Non-Clearing Members (NCMs) are companies without a clearing license. They take part in clearing as clients of a Clearing Member (CM – list of CMs available on ECC website) on the markets for which ECC provides clearing services. For the transactions to be cleared, the NCM has to contact a CM of his choice.
For more information please visit the website of ECC: https://www.ecc.de/en/access/dcp-clearing-members